Colorado Springs outlaw blues and trash-grass pioneers Tejon Street Corner Thieves have announced the details for their upcoming acoustic album "Monarch Sessions". The 6-track EP is set for an October 16th release through Liars Club, the label founded by Banjo-attacking murderfolk troubadour Amigo the Devil and indie powerhouse Regime Music Group.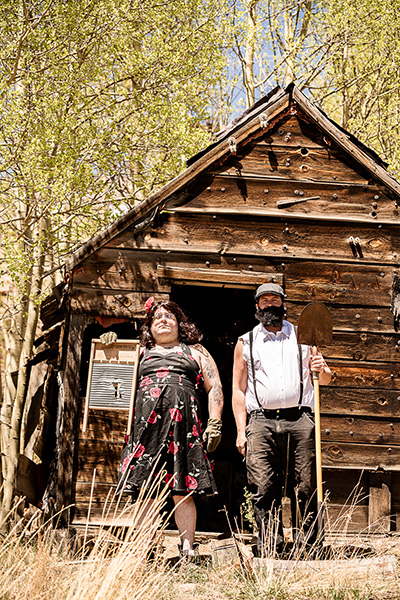 The "Monarch Sessions" presents an astonishing metamorphosis as the songs that were once rooted in darkness transform into their acoustic essence to highlight the emotional depth and find the light. The "Monarch Sessions" sees the band stripped down to solely Connor O'Neal strumming on banjo and Shawn D'Amario playing acoustic guitar.
Tejon Street Corner Thieves have been turning heads with what they call trash-grass; a completely unique take on traditional folk and bluegrass music. The group made headlines with their viral music video for "Never Meant To Be", which showed the band playfully doing a parody impersonation of key artists in the dark folk and alt-country scenes. The video spawned countless reaction videos from parodied featured in the video including Dead South, Shawn James, Days N' Daze, Orville Peck, Bridge City Sinners, Harley Poe, and the group's new label founder Amigo The Devil.
When forced to cancel their touring plans when the COVID-19 global pandemic hit, Tejon Street Corner Thieves responded by doing drive-by performances to fans' houses. The band used their tour bus and a P.A system to drive through fan's neighborhoods and perform from inside the vehicle, while fans take in the concert on their front porch maintaining safe social distances. The performances drew the attention of Fox News, ABC News, NBC 5 in Colorado, and MetalInjection, who covered the band and the group's unique approach to playing shows during the outbreak. Since then, other bands across America have adopted a similar strategy for performing drive-by concerts in other states and credited Tejon Street Corner Thieves for their original idea.
Here is a question and answer with Connor O'Neal from Tejon Street Corner Thieves about the album and their upcoming plans:
1. Tell us a bit about the decision to release an acoustic album with "Monarch Sessions"?
The "Monarch Sessions" album was our solution to keeping music alive during the coronavirus pandemic. Our band members were dispersed throughout the country and shows became non-existent. Shawn and I founded the band together and used the opportunity to recenter ourselves around our roots. We turned our focus to creating an audio/visual EP. This would allow our fans to hear our songs in a stripped down, live setting and watch our raw emotions as we performed our deepest songs. We wanted to maintain the connection we feel during our in person concerts without putting anyone at risk. We're blown away by the outcome of the project and response from our listeners.
2. How did the signing to Amigo The Devil's new label Liars Club come about and why was it the perfect fit for Tejon Street Corner Thieves?
The whole band was in town back in March to record and tour. It was all cut short due to the pandemic but we were able to finish three songs in the studio. We decided to release them as the "Demons" EP.
We've always been huge fans of Amigo and we're lucky enough to get to know him over the past couple years. We'd done some shows together and instantly got along. I hit him up to ask him to listen to "Demons" and maybe add it to some playlists. That's when he brought up Liars Club. We were absolutely floored by the offer! It was literally a dream come true. It was perfect because we knew him, trusted him, and performed alongside him. We related to each other as working bands and knew we were all in it for the same reasons.
3. How has the COVID-19 shutdown had an immediate impact on the band? Talk about playing through it? Any great stories from that?
Initially we were doing live-streams. But it's not like us to stay home and settle. We had the idea to rig our PA to our modified short bus. And it worked! We took email requests and drove around to fans houses performing for them from inside the bus, while they listened from their porch. We did that for two months until our bus finally broke down.
Since then we started a program with the Cultural Office here in the Pikes Peak region called Curbside Culture. People book us for backyard shows where we perform from behind our plexiglass drum shield. It's been great! We had all our tours cancel but we've adapted to keep live music going. It feels like we never skipped a beat. Pun intended.
4. Can you give us an update on the new studio album you've been working on? Where it is it being recorded, how is it different from previous releases and any special guests or surprises you can tell us about?
It's our best work yet! Bill Douglas at Royal Recording has been knocking it out of the park. The production and audio quality is so much better than we've ever worked with and it's opened up the potential to add elements we previously could only dream of. We brought in Lightnin Luke on fiddle and King Strang on bass to fill it out and they are crushing it. We have some surprise instrumentation as well. This will be our fullest and most emotional album to date. We can't wait for you to hear it!
5. Tejon incorporates elements of alt-folk, bluegrass, dark country and even a little punk into one melting pot. How is do all those influences come together so seamlessly and where do you see the band fitting into a scene or do you not fit in at all?
Our biggest influence is our friends and bands we meet on the road. We get exposed to all kinds. Even when we're not performing, we frequent shows of all genres. Music is our life and it shines through our writing. We seem to be popular among multiple scenes which is great because we love changing it up. We've even played thrash and metal festivals! We both have different backgrounds but they led us to the same place. We were raised on DIY house shows and pink parties. I guess we don't fit into any one scene perfectly, but we fit in well enough with a bunch of them to make it work!