Death Rides A Horse may be the most underrated Spaghetti Western of all time, but it is definitely known as a Gothic Spaghetti Western classic. Having witnessed the brutal murder of his entire family by bandits at the age of 5, Bill Meceita (John Phillip Law) has spent 15 years planning his vengeance. Finding a kindred spirit in Ryan (Lee Van Cleef), an experienced gunslinger seeking his own revenge on those who framed him, the two team up to find and kill Walcott (Luigi Pistilli), a fearsome bandit on the loose. But Bill soon discovers that Ryan may know more about his tragic past than he has let on.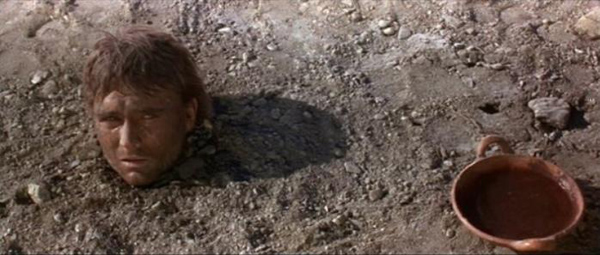 Starting with the opening dark, eerie shots evocative of a night outside Castle Dracula, and a creepily awesome score by Ennio Morricone, Death Rides a Horse at first reminds the viewer of a Hammer horror film instead of a spaghetti western. This revenge film contains one of the more remorseless criminal gangs in recent history, and it is also very reminiscent of a Sergio Leone film, with Lee Van Cleef ("Angel Eyes" in 'The Good, The Bad and The Ugly') co-stars, and the supporting cast includes Mario Brega and Luigi Pistilli, both familiar faces from Leone's Dollars trilogy. Plus it was written by Luciano Vincenzoni and scored by Morricone, whose use of sinister sound effects adds to the atmosphere. But Giulio Petroni however is the director instead of Leone, and this may add to the weirdly awesome pacing and style to Death Rides a Horse. Unfortunately this dark and macabre western suffers from a horrible transfer to DVD, here's hoping that one day this film will receive the proper restoration it deserves.
There are several influences from and references of Death Rides a Horse in Quentin Tarantino's Kill Bill, which also uses its main musical theme by Ennio Morricone. Tarantino also rated Death Rides a Horse number eight on his top twenty list of his favorite spaghetti westerns, which he revealed in a conversation with the Spaghetti Western Database in 2009. Watch the movie below or grab the DVD HERE.