Rachael Brady has one of those voices you only find in singers who're grounded by their guts into a life deeply & often messily lived. It isn't sweet, high or perfect. It's a voice that sings its scars and imperfections. It'll probably sing some of yours too. And like her voice, which speaks to the mess, the heartache, the jubilation & ultimately, the beauty of our humanness – so too does the music. It's visceral, honest, vulnerable and seductive AF. This woman can not only spin a gothic-noir tale worth telling but she'll sing the hell out of it too.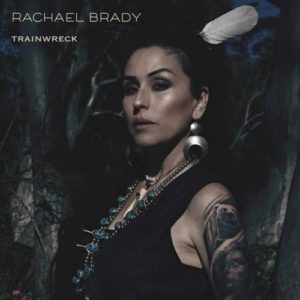 Brady is currently (2021) recording her 4th studio album "Bears, Witches & Wolves" with Blue Mountains based producer, engineer and multi-instrumentalist Josh Schuberth (Josh Pyke, Sara Storer, Shane Nicholson).
The album signals a clear departure from any previous folk/roots offerings and finds Brady exploring a much darker Americana soundscape described as a southwestern, gothic-noir journey of love, life and death with distinctly witchy, medicine-woman, runs-with-wolves overtones.
"Our journey starts, as many do, with a train-wreck of a relationship and ends, as all stories must, in a funeral lullaby".
She is currently working to put together an all-female lineup focusing on women's stories from the feminine perspective.
Trainwreck
Alright alright now
I'm feelin' just a little bit of somethin' that I can't explain
It happens every time that you walk by or look my way
This could be the, be the end of me
'Cause you might be the devil but an angel is all I see
I know that you came here with your friends but you might leave with me
And if we dance a little more there's a chance you will fall you'll see
Oh you will fall babe, you will fall for me
'Cause I might be a devil but an angel is all you'll see
I don't wanna look at ya – beautiful mess
But I cannot avert my eyes from this train-wreck
You're a mess, I'm a mess, we're all wrecked – baby I don't care
Preacher man says we're all doomed so c'mon honey just let down your hair
You'll be safe darlin' – you'll be safe with me
Devil's what you think I am but an angel's what I'll be
I don't wanna look at ya – beautiful mess
But I cannot avert my eyes from this train-wreck
Yeah you're a trainwreck honey
Oo ooooooo ooo ooo
oo ooooooooo, oo oo oo oo oo