From the bestselling author of Kinflicks and Kinfolks comes Blood Feud, a riveting new narrative history of America's most infamous feuding families, the Hatfields and the McCoys. Lisa Alther, a native of Appalachia whose distant ancestors stood on the fringes of the clan violence, offers a fresh, new take on the feud that gripped a nation and ripped a region apart in a bitter family rivalry that has become legendary in American folklore.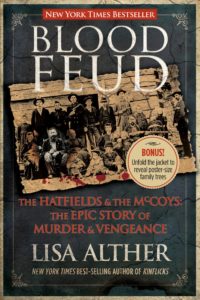 America's most notorious family blood feud began in 1865 with the murder of a Union McCoy soldier by a Confederate relative of "Devil Anse" Hatfield. More than a decade later, Randall McCoy accused a Hatfield of stealing one of his hogs, triggering years of violence and retribution, including a Romeo-and-Juliet interlude that eventually led to the death of one of McCoy's daughters.
In a drunken brawl, three of McCoy's sons killed Devil Anse Hatfield's younger brother. Exacting vigilante revenge, a group of Hatfields tied them up and shot them dead. McCoy posses hijacked part of the Hatfield firing squad across state lines to stand trial, while those still free burned down Randall McCoy's cabin and shot two more of his children in a botched attempt to suppress the posses.
Legal wrangling ensued until the US Supreme Court ruled that Kentucky could try the captured West Virginian Hatfields. Seven went to prison, and one, mentally disabled, yelled, "The Hatfields made me do it!" as he was hanged in the Bluegrass State's last public execution. But the feud didn't end there. Its feuding families legend continues to have an enormous impact on the popular imagination and to exact an onerous toll on the region itself.