Since the band began in 2001, Murder By Death has gained a following as diverse as their musical influences. There has always been a darkly romantic atmosphere around the band, as revealed in this SPIN Magazine quote about the band, "They brawl like Johnny Cash's cellmates or dreamily swoon like Nick Cave, stomping saloon floorboards in 4/4 time as grand strings fade into high noon."
The group consists of Sarah Balliet's throaty cello melodies, singer/guitarist Adam Turla's booming baritone vocals and brawny guitar strumming, drummer Dagan Thogerson and bassist Matt Armstrong's post-punk rhythm section interplay, and Scott Brackett's multi-instrumentalist bag of tricks (including piano, trumpet, accordion, mandolin, vocals, percussion). The overriding sound is an amalgamation of textures ranging from dark and desolate to upbeat and brightly melodic sound.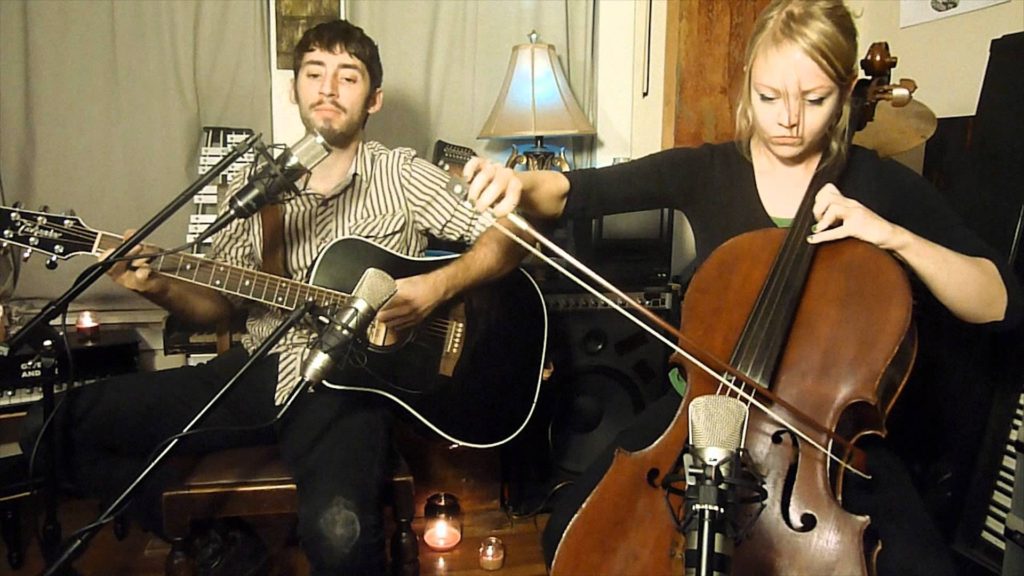 The other mainstay signature element of Murder By Death's identity has been built by the overriding concepts behind each individual album. Every successive effort conjures up fresh imaginative and tactile worlds – whether it's the battle between the Devil and a small Western town (Who Will Survive and What Will Be Left of Them?, 2003), an arid land of death and redemption (In Bocca al Lupo, 2006), songs inspired by a retreat into the Tennessee mountains (Good Morning, Magpie, 2010) or just shadowy small-town stories (Bitter Drink, Bitter Moon 2012).
On their seventh full-length album and first since their 2012 Bloodshot debut Bitter Drink, Bitter Moon, the band's signature sound (rootsy indie rock, cinematic gothic ballads, and rousing pub rock shout-alongs) mixes with enlivening new stylistic elements (touches of pop, synth-y electronics, and psych rock) only hinted at on previous albums.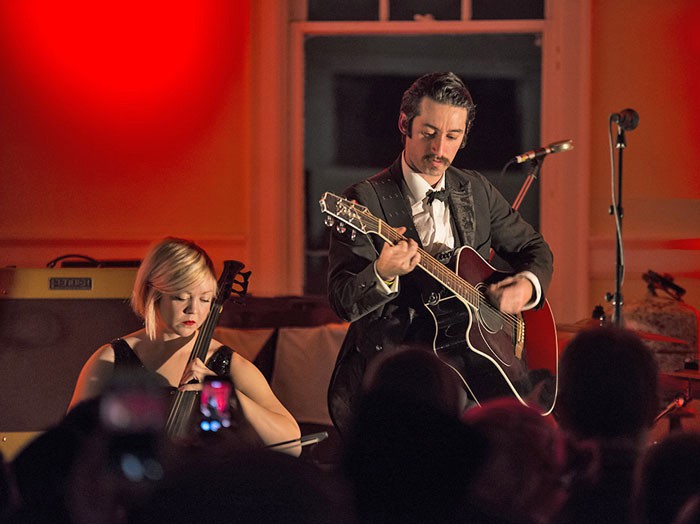 Big Dark Love reflects a different, bigger, more complex side of Murder By Death. As hinted in the title, the 10 songs circle a central theme of love, only in this case, the oft-traveled topic is examined through non-traditional kaleidoscopes: the love of a parent for their child, the struggle between unconditional love and morality, loving to excess. Throughout life, as in song, there can sometimes be a dusky patina of despair overlaying glints of hope.
Murder By Death has also made a yearly event of playing the Stanley Hotel, the reputedly haunted hotel that inspired Stephen King's novel, The Shining. before one of Murder by Death's annual winter shows. A ghostly stillness will chill your bones. A buzz of anticipation from the gothic-Americana band's fans, who come from all over the world to see the group. The spooky Estes Park setting — with most in attendance dolled up in formal attire to re-create the iconic ballroom photo from Stanley Kubrick's film version of The Shining — could not have been more perfect for Murder by Death. Visit Murder By Death online HERE.