The Los Angeles gothic americana band the Heathen Apostles have released a new Southern Gothic witch tale in the form of a music video: Deadly Nightshade, the third from their 2018 album Bloodgrass Vol. I & II. Here is the press release from the band:
"Deadly Nightshade, the new music video from the Heathen Apostles, takes the band back into familiar dark territory; this time, the atmosphere is that of the quintessential Universal horror films of the 1930's and 40's.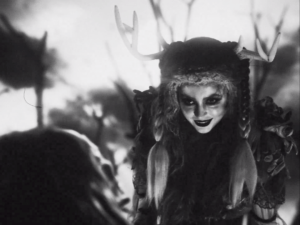 Those familiar with the iconic genre will thrill to the sights of a mortician-like banjo player piloting an angelic victim down river to her doom and corpses floating up from their graves, while burlap-masked musicians provide the soundtrack to a feral witch stealing the soul from our helpless heroine.
'Inspired by classic horror movies and German expressionism, the main goal was to not romanticize an old style, but rather to bring it to something that could still be dark, creepy and beautiful,' states director Jorge Jaramillo (who also directed the Heathen Apostles' Paint the Stars video). Watch the new video HERE.
Lead vocalist Mather Louth: "When the Heathens sat down for the initial pre-production meetings with Jorge, we all agreed that reinventing and modernizing the classic black and white horror genre would be the perfect visual direction for "Deadly Nightshade". I've always felt very strongly about "Deadly Nightshade" being incredibly cinematic in nature, and it was always clear to me that Jorge would be the perfect director for the song. His work is thought-provoking, filled with symbolism and horrifically disturbing creatures, and he is a true visionary and original.
The video also served as a fun exploration for me to portray both predator and prey, and I particularly enjoyed finding the physicality and mannerisms of the witch's character. There is something quite freeing about playing a character that is so wholly repulsive and ugly, especially in today's overly filtered and appearance-obsessed culture.'
Deadly Nightshade is the third music video from the band's Bloodgrass Vol. I & II album, check it out HERE. The Heathen Apostles fifth album, Dust to Dust, is out June 7th on Ratchet Blade Records."