16 Horsepower was an American Dark Roots music group based in Denver, Colorado. Their music often invoked religious imagery dealing with conflict, redemption, punishment, and guilt through David Eugene Edwards' lyrics and the heavy use of traditional bluegrass, gospel, and Appalachian instrumentation cross-bred with rock. Edwards and Pascal Humbert formed 16 Horsepower in 1992 in Los Angeles, California, where they had met building movie sets for Roger Corman's Hollywood Studios. Friend, co-worker and trained jazz drummer Jean-Yves Tola joined shortly after. The trio performed once as Horsepower before they parted ways with Humbert as Edwards and Tola re-located to Denver, Colorado.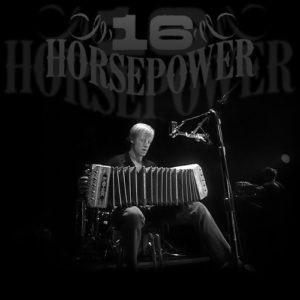 Frustrated by misconceptions about the name Horsepower being related to heroin and inspired by a traditional American folk song about sixteen horses pulling the coffin of a beloved to the graveyard, the name was changed to 16 Horsepower, and eventually they released a seven-inch single, "Shametown", in 1994 on Ricochet Records. By this time they had gained the attention of A&M Records, and recording of Sackcloth 'n' Ashes began in 1995. For various reasons A&M decided to postpone the release of the album, and so the band returned to the studio and recorded their eponymous debut EP which was released the same year.
The debut full-length studio album Sackcloth 'n' Ashes was eventually released in 1996, garnering praise from the international music press. At this time Pascal Humbert had re-located to Denver and joined the band as a second guitarist, and recording began on the second album, Low Estate, with John Parish as producer. 
Spending two years touring and writing new material, 16 Horsepower's third full-length album Secret South was not recorded and released until 2000. The album marked a distinct change in sound and tone from earlier releases as the up-tempo rock influences had all but vanished completely and left room for a more melodic folk-inspired sound. 
16 Horsepower returned in 2002 with Folklore, and Olden, a compilation of previously unreleased versions of early material was released in 2003. In April 2005 the band announced their official break-up, as a result of personal, political and spiritual differences as well as finding the constant touring incompatible with their daily lives.

Edwards' grandfather was a Nazarene preacher and young Edwards often went along as his elder preached the gospel to various peoples. This experience colored his approach to songwriting as well as the instrumentation employed to develop the band's unique sound. On several tracks over the course of the band's career, Edwards evoked decisive Christian imagery, particularly that of the redemptive capacity of Jesus Christ. 16 Horsepower are among the Denver-based bands credited for laying the foundation for what today has become known as the dark roots music genre Gothic Americana.
As to 16 Horsepower's breakup, a message on the band's website stated the members attribute the group's demise to "an accumulation of differences, mostly political and spiritual (that) separates us today and prevents us from honestly going any further." The message notes that "we will remain active as Lilium and Woven Hand, the side projects of bassist Pascal Humbert and drummer Jean-Yves Tola, and frontman David Eugene Edwards, respectively.
In a more recent interview, Jean-Yves Tola hints that the breakup was in part attributable to a disagreement over Edwards' increasing reliance on religious content in 16 Horsepower songs. Edwards has long used harrowing religious imagery in the lyrics he writes for 16 Horsepower and Wovenhand.