Deliverance is a 1972 gothic hillbilly film produced and directed by John Boorman, and starring Jon Voight, Burt Reynolds, Ned Beatty and Ronny Cox, with the latter two making their feature film debuts. The screenplay was adapted by James Dickey from his 1970 novel of the same name. The film was a critical and box office success, earning three Academy Award nominations and five Golden Globe Award nominations.
Four city-dwelling friends (Jon Voight, Burt Reynolds, Ned Beatty, Ronny Cox) decide to get away from their jobs, wives and kids for a week of canoeing in rural Georgia. When the men arrive, they are not welcomed by the backwoods locals, who stalk the vacationers and savagely attack them in the woods. Reeling from the ambush, the friends attempt to return home but are surrounded by dangerous rapids and pursued by a madman. Soon, their canoe trip turns into a fight for survival.
Widely acclaimed as a landmark picture, the film is noted for a music scene near the beginning, with one of the city men playing "Dueling Banjos" on guitar with a banjo-picking country boy, and for its notorious rape scene.
Dickey had initially wanted Sam Peckinpah to direct the film. Dickey also wanted Gene Hackman to portray Ed Gentry whereas Boorman wanted Lee Marvin to play the role. Boorman also wanted Marlon Brando to play Lewis Medlock. Jack Nicholson was considered for the role of Ed, while both Donald Sutherland and Charlton Heston turned down the role of Lewis. Other actors who were attached to the project included Robert Redford, Henry Fonda, George C. Scott and Warren Beatty.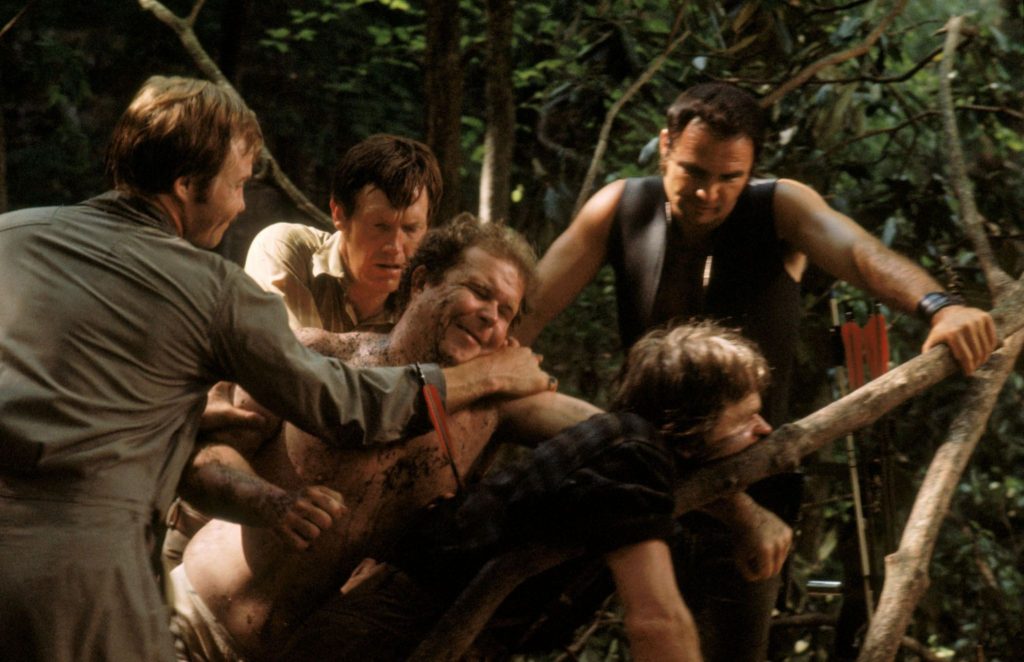 Deliverance was shot primarily in Rabun County in northeastern Georgia. The canoe scenes were filmed in the Tallulah Gorge southeast of Clayton and on the Chattooga River. This river divides the northeastern corner of Georgia from the northwestern corner of South Carolina. Additional scenes were shot in Salem, South Carolina.
During the filming of the canoe scene, author James Dickey showed up inebriated and entered into a bitter argument with producer-director John Boorman, who had rewritten Dickey's script. They allegedly had a brief fistfight in which Boorman, a much smaller man than Dickey, suffered a broken nose and four shattered teeth. Dickey was thrown off the set, but no charges were filed against him. The two reconciled and became good friends, and Boorman gave Dickey a cameo role as the sheriff at the end of the film.