There's a brooding darkness that comes with the new Derek Hoke release, the gloomy roots album Bring The Flood. For much of the record, the East Nashville singer-songwriter dives deep to examine the unease, gloom and struggle found within America's modern experience.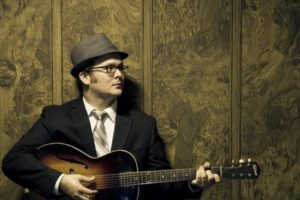 "It seemed like a dark cloud coming over America, watching a lot of people hurting, going through hard times, harder than ever," says Derek Hoke.
On Hoke's Tom Petty-tinged "Little Devil," he sets up a slow-burning southern groove. Hoke may open with lines like "I've been hypnotized by your skin," but it's us who are left paralyzed by the pulsing beat that creeps on through with ease. A sharp slide guitar pierces throughout letting in flashes of light in Hoke's otherwise dead-end small town.
In the video, Hoke and company set up shop in that dead-end town for a sultry southern gothic tale. At times, it ventures into psychedelic trances brought on by Hoke's slide guitar chops. But again, it's the Petty-tinged piano groove that keeps everything from departing too far off the trail. Hoke's southern croon is unwavering as he calls out on the entrancing tale of lust.
"Little Devil" features acclaimed drummer Matt Chamberlain and North Mississippi Allstars' Luther Dickinson on slide guitar, while Nashville's own Aaron Lee Tasjan also joins in on backing vocals.