The Mourning Glories are a Netherlands-based trio with members from Canada, The United States and France. Switching up instruments and hardware, they yodel fearlessly, harmonize murder ballads and old time blues…The Mourning Glories have conjured up a variety of material that has been known to swoon or haunt.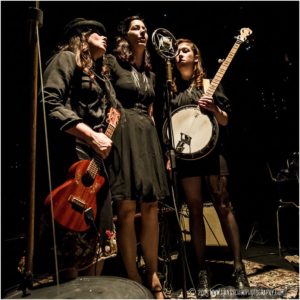 Their distinctive style is graced by close, three-part vocal harmonies and evokes the darker side of early 20th century blues, jazz, gospel and roots music. Individual roles are wonderfully undefined, exchanging instruments, hardware and vocal parts. Their truly unique sound is colored in the raw asthetic of the old time music in which they have immersed themselves. Three voices intertwined in revelatory spirituals, hair-raising tales of lamentation and undeniably sassy, foot-shufflin' tunes. A most particular group of women worth keeping your eye on.
Established in May 2015, The Mourning Glories have had an extraordinary start as a band, touring to enthusiastic audiences across western Europe and the UK. Two appearances have been made on BBC Radio Liverpool and the trio has also served as the opening act for such notable artists as C.W. Stoneking, The Hackensaw Boys, Delaney Davidson and The Small Time Crooks. The main objective of their work is to present high-quality recordings to music professionals and ultimately build the support needed to further their musical journey.
"Undervalued highlight of the festival is the performance of the three ladies of The Mourning Glories, who gave an impressive performance using unusual instruments like a saw being played with a bow and a Washtub Bass (a large tub with a stick and a string). The unique voices blend together without the three singers losing their own sound."
– 3VOOR12, Het Kleine New Orleans Festival, Utrecht, NL