In his first novel in ten years, Barry Hannah's Yonder Stands Your Orphan opens with the establishment of an orphans' camp and the discovery of an abandoned car with two skeletons in the trunk. Man Mortimer, a pimp and casino pretty boy who resembles dead country singer Conway Twitty, has just been betrayed, and his revenge becomes a madness that will ravage the Mississippi community of Eagle Lake and give vent to his lifelong fascination with knives. With hardly any more provocation than anyone else here (in true southern gothic tradition, surreal violence flares up quite often in these pages), Mortimer goes on a random crime spree of non-lethal knifings that leaves everyone baffled, but ultimately not all that concerned.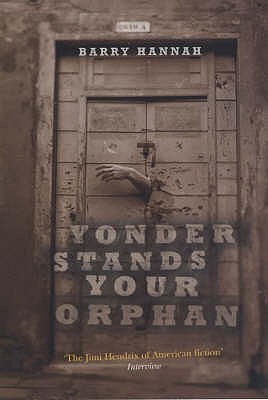 The pompous young sheriff is useless at solving the crimes, so Mortimer's only challengers are three eccentric Christians — a disgraced doctor and two ex-bikers, all prey to their addictions — and an African-American Vietnam veteran whose wife is ill with cancer. Mortimer has a hold on each one of them — a long-standing debt, a forgotten crime, or responsibilities they cannot yet desert.
With this explosive mixture, it can only end badly and, of course, it does. But, as ever, Hannah keeps the story moving forward at a furious pace, so you are never bored though, at times, you may be at a loss to know how we got where we are. His characters, all larger than life, are superb and probably make you wonder what the hell is going on down in Mississippi. Oh, and if you didn't know, the title comes from Bob Dylan's song. Yonder Stands Your Orphan paints a searing picture of the American South and establishes Barry Hannah once again as one of the most important writers in America.