One morning in March 2021 with the second wave of infections ripping through Ireland where he was newly resident, Mark Lanegan woke up breathless, fatigued beyond belief, his body burdened with a gigantic dose of Covid-19. Admitted to Kerry Hospital and initially given little hope of survival, Lanegan's illness has him slipping in and out of a coma, unable to walk or function for several months and fearing for his life. The new Mark Lanegan book detailing his COVID 19 illness pulls no punches.
As his situation becomes more intolerable over the course of that bleakest of springs he is assaulted by nightmares, visions and regrets about a life lived on the edge of chaos and disorder. He is prompted to consider his predicament and how, in his sixth decade, his lifelong battle with mortality has led to this final banal encounter with a disease that has undone millions, when he has apparently been cheating death for his whole existence.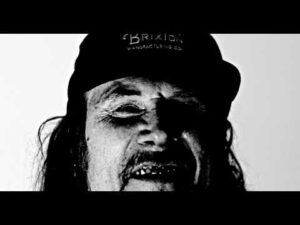 Written in vignettes of prose and poetry, DEVIL IN A COMA is a terrifying account of illness and the remorse that comes with it by an artist and writer with singular vision.
It appears Lanegan considers his illness as a kind of karma, payback for past behaviour, which is a hell of a way to look at it. Presumably writing an account like this helped him through his ordeal. Deluded, yet somehow lucid, of all the people mentioned in this book, his mother fares the worst, he unleashes quite a bit of poison in her direction. Although a bleak read, by its conclusion you don't want it to end. Mark Lanegan may well have suffered lasting damage from his experience with COVID-19, but has managed to survive. The new Mark Lanegan book is a serious read but never becomes too heavy going.