True Blood is an American Southern Gothic vampire television series produced and created by Alan Ball. It was based on The Southern Vampire Mysteries, a series of novels by Charlaine Harris.
The series revolves around Sookie Stackhouse (Anna Paquin), a telepathic waitress living in the fictional rural town of Bon Temps, Louisiana and is set two years after the invention of a synthetic blood product branded "Tru Blood" that has allowed vampires are able to "come out of the coffin" and allow their presence to be known to mankind, chronicling the vampires' struggle for equal rights and assimilation, while anti-vampire organizations begin to gain power. Sookie's world is turned upside down when she falls in love with 173-year-old vampire Bill Compton (Stephen Moyer), and for the first time, she must navigate the trials and terrors of intimacy and relationships.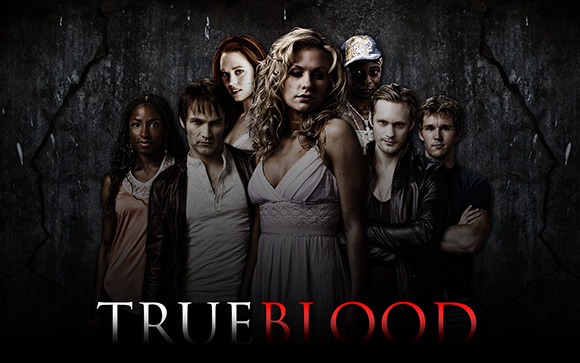 The fictional universe depicted in the series is premised on the notion that vampires exist, unbeknownst to the majority of humans until two years before the series premiere, when the creation of synthetic blood ("Tru Blood") by Japanese scientists, which eliminated vampires' need for human blood to survive, allowed vampires to "come out of the coffin" and reveal their existence to the world. This so-called "Great Revelation" has split vampires into two camps: those who wish to integrate into human society (i.e., "mainstream") by campaigning for citizenship and equal rights, and those who think human-vampire co-existence is impossible, because it conflicts with the inherently predatory and violent nature of vampires. It has also caused similar divisions amongst non-vampires; some believe that vampires should be accepted and granted rights, while others view them as monsters to be destroyed. Throughout the series, other supernatural creatures are introduced, among them shapeshifters, werewolves, faeries, witches, and a maenad.
The show explores several contemporary issues such as the struggle for equal rights, discrimination, and violence against minorities and homosexuals, the problems of drug addiction, the power of faith and religion, the control/influence of the media, the quest for identity, and the importance of family.