Flannery O'Connor's haunting first novel of faith, false prophets, and redemptive wisdom is Wise Blood, the Southern Gothic literature gold-standard. Wise Blood and Flannery O'Connor are both astonishing and haunting; as a first novel Wise Blood is a classic of twentieth-century literature. It is the story of Hazel Motes, a twenty-two-year-old caught in an unending struggle against his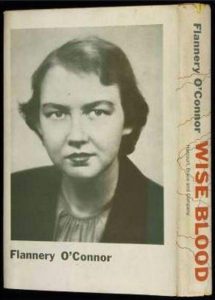 inborn, desperate fate. He falls under the spell of a "blind" street preacher named Asa Hawks and his degenerate fifteen-year-old daughter, Sabbath Lily. In an ironic, malicious gesture of his own non-faith, and to prove himself a greater cynic than Hawks, Motes founds the Church Without Christ, but is still thwarted in his efforts to lose God. He meets Enoch Emery, a young man with "wise blood," who leads him to a mummified holy child and whose crazy maneuvers are a manifestation of Motes's existential struggles. This tale of redemption, retribution, false prophets, blindness, blindings, and wisdom gives us one of the most riveting characters in American fiction.
Flannery O'Connor was born in Savannah, Georgia in 1925, the only child of Catholic parents. In 1945 she enrolled at the Georgia State College for Women. After earning her degree she continued her studies on the University of Iowa's writing program, and her first published story, 'The Geranium', was written while she was still a student. Her writing is best known for its explorations of religious themes and southern racial issues, and for combining the comic with the tragic. After university, she moved to New York where she continued to write. In 1952 she learned that she was dying of lupus, a disease which had afflicted her father. For the rest of her life, she and her mother lived on the family dairy farm, Andalusia, outside Millidgeville, Georgia. For pleasure she raised peacocks, pheasants, swans, geese, chickens and Muscovy ducks. She was a good amateur painter.
O'Connor completed more than two dozen short stories and two novels while struggling with lupus. She died on August 3, 1964, at the age of 39 in Baldwin County Hospital. Her death was caused by complications from a new attack of lupus.